Free India VPN/Proxy APP APK with Indian Server for PUBG, TikTok, Hotstar etc.
Vic Knott
2022.09.27
VPN App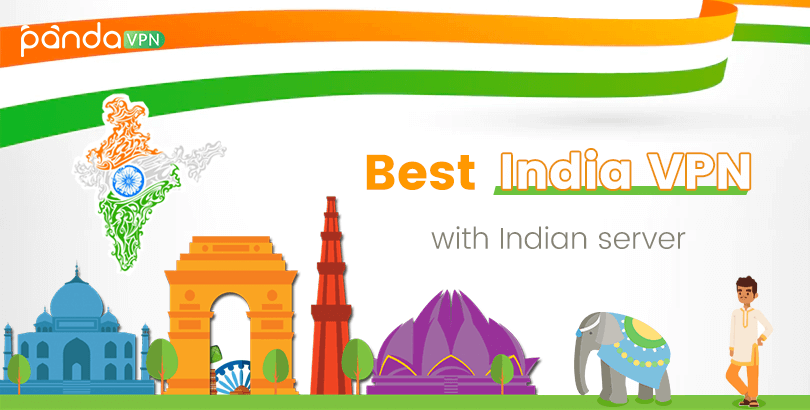 Owing an India VPN with servers from Indian and also other locations means freer entertainment choices and better privacy protection.
VPN services shut down in India? Recently, there are many news talking about the effectiveness of VPN service because Computer Emergency Response Team from India (also known as CERT-In) will apply a new rule to VPN providers, forcing them to collect customer information and hand it over to the government from Sept. 25 for the state's security purpose. For the sake of users' privacy, some VPN companies choose to drop the servers out of this nation.
If your VPN quits the India server or you are just a newbie looking for a safe and fast India VPN, you can try PandaVPN APK for free. Auto-sign-up, no email address or credit card binding required, no logs, nor video ads at all!
What's Been Blocked in India? Not only the Chinese Apps…
Although India is a country with relatively good freedom of net access and speech, it still has Internet censorship, and the government also performed content ban in recent years, especially those apps from China and sites regarding pornographic, "Escort Services" and politically sensitive content. Examples are:
| | |
| --- | --- |
| Time | Banned App/Websites |
| October 2018 | 827 porn websites in total are unblocked |
| June 2020 | TikTok, Weibo, Wechat, Shareit, Kwai, Baidu map/Translate, YouCam makeup, Mi Community, UC Browser, QQ Mail/Music/Player/International, Shein, Meitu, DU Recorder/Browoser/Cleaner, Mobile Legend, etc. |
| September 2020 | Baidu, PUBG Mobile (Lite/Nordic Map: Livik), Mobile Legends: Pocket, Rise of Kingdoms: Lost Crusade, CamCard Business, WeChat reading/Work, Tencent Weiyun, Youku, Aplipay, VPN for TikTok etc. |
| November 2020 | AliExpress, Alipay Cashier, Soul- Follow the soul to find you, WeDate-Dating App, DingTalk, MangoTV, DingTalk, Isoland 2: Ashes of Time, etc. |
| February, 2022 | Garena Free Fire Illuminate, Beauty Camera Selfie Camera, Voice Recorder & Voice Changer, Isoland 2: Ashes of Time Lite, Tencent Xriver, Notes-Color Notepad, Notebook, UU Game Booster-network solution for high ping, Live Weather & Radar Alerts, etc. |
| January-March, 2022 | 1482 websites or URLs were blocked, including the standalone websites, webpages, and social media pages. |
| … | Check out more net censorship details in India on Wikipedia |
From communication tools to dating apps, games to camera apps, media players to streaming services, and more, India has permanently banned over 270 Chinese apps in various types in total in the last three years due to "improper" sensitive data collection as the authorities claimed. Now, you can't find them on either Indian Google Play or Apple App Store, nor access the official site for download since you will receive an error message saying "This site can't be reached".
How to Unblock TikTok, PUBG Mobile and More in India?
To evade the restrictions and unblock banned mobile apps, games, and websites in India, you will need a VPN or proxy to hide IP address and route traffic through a foreign server so that the ISP can't stop it directly with DNS filtering to similar approches.
PandaVPN is a cross-platform VPN proxy that has over 3000 servers from 80 countries and 170+ locations across the five continents. No logs kept, ultra-fast servers, and no bandwidth or speed limit, you can get TikTok, PUBG Mobile, Farena Free Fire unblocked without hassle by following the steps below.

STEP 1. Sign-up: Create an account and choose a plan according to your demand to order.
STEP2. Download & Install: Download the installer of VPN for your smart device and finish the client setup by following the wizard. Then sign in to the account.
STEP3. Connect to Enjoy the App/Game: Choose target server location like any city from the Unites States with VPN mode. Also, you can leave the connection automatically with the Smart Mode. As the connection is made, you can go to Google Play, App Store, or banned official site to download and use TikTok, WeChat, AliPay, PUBG Mobile, Free Fire, and more without problem.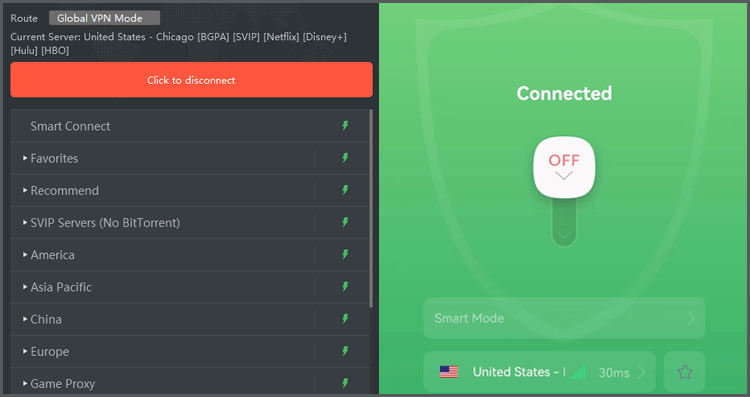 * PandaVPN promises not collecting or keeping user logs for any further use.
How to Access Indian Content like Hotstar Outside India?
India has the 2nd largest population throughout the world and is expected to exceed China in the near future, so it's not wired to see many Indians going abroad for work, career improvement, or simply starting a business. If it's a chance to change one's destiny, then those Indian expats will lose something that can only be enjoyed in their hometown. Homesickness appears from time to time, besides food, relatives, and friends, accessing local streaming services like Hotstar, games and websites things can make them feel at home easily.
Streaming platforms and online games are known for geo-restriction. They offer varying multimedia content and gaming VPN servers according to a customer's real locations based on IP address. If anyone is located outside India, say in the United States, he or she is unable to access and watch Indian library or play with Indian gamers as expected, unless getting a VPN to change IP address to India.
PandaVPN is a good and reliable Indian VPN proxy for PC, Android (TV included), iOS, and Linux. It has secure and fast servers in Bangalore, India, by connecting to which you will be regarded as an user from India physically and bypass the geo-blockks easily. As a result, you can unblock and watch Disney+ Hotstar's Indian films and live cricket matches wherever you are.
Steps to unblock Indian Hotstar for demonstration:
STEP 1. Get PandaVPN account, have the app downloaded and installed on PC, mobile or TV.
STEP 2. Sign in to your account and choose India server under "SVIP Servers" or "Asia Pacific" group to connect immediately. It's workable on Streaming service like Netflix and Hotstar.
STEP 3. After that, with the new Indian IP address from VPN server, you can open Indian content successfully just like at home. By the way, currently to enjoy the streaming content of Hotstar, you should get the Disney Bundle.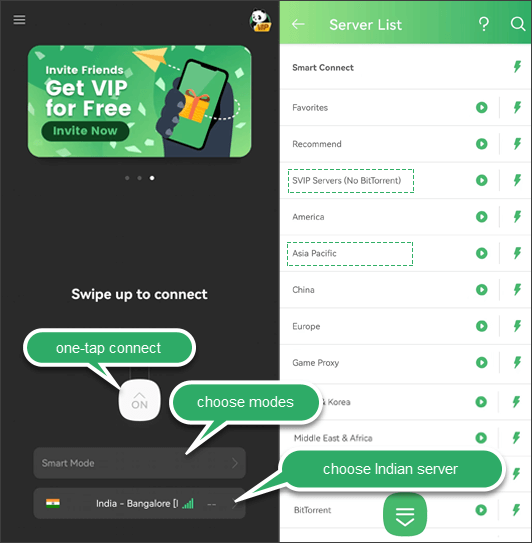 * During the VPN use, PandaVPN will encrypt your IP address, browsing histories, and other personal data tightly to shield your online privacy.
VPN Providers Threaten to Quit India? Let's Take a Look at What's Happening
Actually early in April, 2022, the Ministry of Electronics and Information Technology (MeitY) had invited ExpressVPN and NordVPN firms, policy makers, and related experts to discuss about the cybersecurity guideline update. At last in late June, all VPN providers with Indian servers were required to begin the data collection and storing and the CERT-In finally decided to make updates available months later to September 25.
As to the information that VPNs are obliged to keep from customers, it contains:
– names, address, and contact number of customers and subscribers
– VPN hiring date & period, time stamp of registration
– email address
– real IP address
– the reason to get VPN
– the pattern of VPN service ownership
In addition, they should hold the information for at least 5 years and deliver it to authorities whenever they need the data. (Check full text of SERT-IN Directions Paper [April Version])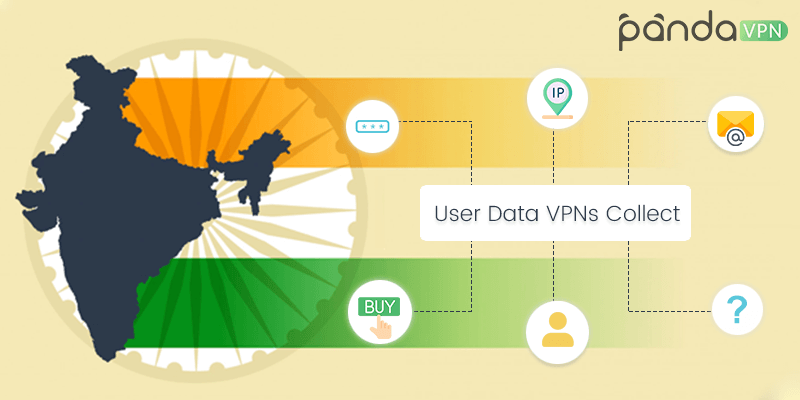 Examples of VPN Providers' Attitudes Towards India's New Rules
Indian marketing vs. privacy concerns, which one matters more? When faced with this problem, VPN companies are only left with two choices: do as the Indian government requires or quit the Indian servers. Examples are:
NordVPN shut down all of its physical servers in India after the CERT-in's behavior in June completely. Users are unable to get Indian IP anymore after this action.
ExpressVPN also decided and removed its Indian servers in June. But, users can still change IP address to an Indian IP by connecting to its virtual India servers that are actually based in the UK and Singapore.
Surfshark reacted on behalf of its users too by ending its physical servers in India. It won't record or keeps customer logs/data for further use. Instead, virtual Indian servers that're located in London, Singapore, and the Netherlands are offered to help those get an Indian IP address.
IPVanish claimed it won't compromise the value for no-logging policy, so it quite the physical servers in Mumbai and New Delhi, India since June 27. As a result, customers are no longer to obtain IP from India with IPVansh.
Proton VPN: ProtonvVPN is the VPN service from the safest email provider – Proton. Not until 22 September did the firm give a response and announce the withdraw of its Indian server. According to its blog post, connecting to an Indian IP address is still possible with Smart Routing servers (based in Singapore).
…
Therefore, VPN Providers threaten to quit India over new laws is to some degree a true phenomenon, except that they usually didn't do threatening behaviors but only decided to withdraw the local physical servers or even exit this place.
FAQs
1. Is there any good free India VPN? Free vs. paid one, who's better?
There are many free VPNs that are either totally free of charge or the free VPN trial version. By searching India VPN Google Play, you can see a dozen of apps even with a similar title, like "INDIA VPN – Secure VPN" and "VPN India – get Indian IP", however, they are more often with many ads and limited servers. Many top reviews complain about the poor performance on Hotstart/Netflix and slow connection.
You are suggested to get free trial version of major or top VPNs with a large user base and good fame like ProtonVPN and PandaVPN. For the best of privacy and security practise, paying for a premium no-log VPN to enjoy the full features and speed is a wise choice. (See Paid vs. Free VPN)
2. Virtual vs. physical VPN server, what's the difference?
As mentioned above, to reject the data gathering in India, some VPNs gave up the physical servers in this nation and switch to virtual servers instead from other areas outside India, then is there any difference between these two server types?
In short, the physical server is generally more reliable and faster than virtual server. Nevertheless, both virtual and physical servers in India can mask your original IP and distribute you an Indian IP address.
3. Do VPNs support other countries, apps, streaming services and websites?
Generally, VPNs set up different number of servers in varying places, also the stability in most censored countries differs from apps, too. To get the IP address from specific region(s) or to use the VPN mainly in certain place(s), you'd better check the VPN server locations and test its real performance.
PandaVPN now has over 3000 remote servers from 170+ locations and works quite stable in Southeast Asian countries (e.g Pakistan, Singapore, Philippine, and Indonesia), Middle East countries (e.g UAE, Saudi Arabia, Egypt, and Qater), India, China, and so forth. It not only provides servers for common web browsing and app unblocking, but also has dedicated ones for streaming, torrenting, and gaming. You can trust this solid VPN app for any requirement, not only limited to watching Hindi movies, viewing TikTok videos, or playing PUBG Mobile games.
4. Are all India VPNs available for Chrome/Firefox, iPhone, Firestick, PPTP etc.?
Not exactly. The platform compatibility usually varies from VPNs. PandaVPN now supports the most mainstream devices including Windows- & macOS-based computers and laptops, iPhone, iPad, Android phones/tablets/smart TVs, and Linux. If you are seeking for a Indian VPN for Chrome, browser (as extension), or Firestick, you can turn to ExpressVPN, Surfshark etc.
As to the one with Indian PPTT VPN server, since the nearly all top VPNs (PandaVPN included) secure customer cybersecurity, they don't use use PPTP and similar VPN protocols (e.g L2TP and IPSec) any more now while adopting more advanced ones like OpenVPN, WireGuard or even engineer their own. Hence users are still not recommended to use PPTP VPN.
Exercise your rights to privacy in digital age!
Get PandaVPN
7-day money-back guarantee