How to Bypass Geo Blocking & Access Blocked Sites? 3 Ways to Unblock Websites Easily
Vic Knott
2022.09.28
How-to Guides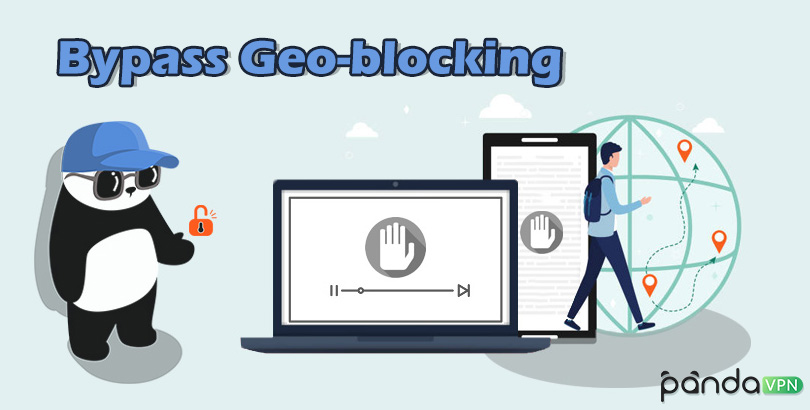 There are multiple ways you can choose from to circumvent geo-blocking and access the blocked sites at will.  
Geo-blocking is a tech term referring to the action of restricting people's access to online content based on location. Maybe you fail to open certain websites at times just for this geo-blocking reason but you have no idea about it at all. Therefore, let's begin with several typical cases of geo-blocking, along with the reasons of this practice.
What's Internet Geo-blocking? 4 Examples Shared
1. You are outside the US and unable to watch American Netflix library.
Geo-blocking reason: copyright and licensing of content
Premium streaming video services are the main parts of such kind of geo-blocking applications. Not only Netflix but also many other paid multimedia providers on the web adopt this policy for the reason of the content's exclusive territorial rights, say Hulu, HBO (Max), Amazon Prime Video, BBC iPlayer, Disney Plus, and so forth.
It's easy to understand that some content distribution rights vary from location. If a streaming platform wants to publish a piece of movie or TV show in any specific region, it must obtain distribution rights in this place accordingly. That's why although Netflix is now available in 190+ countries and regions worldwide, it offers different content for different regions. Consequently, a popular movie title may be provided in for example the United States, but not in places aboard, showing you an error message saying "This title is not available in your area". This gives rise to the requirements of a region-altering tool to unblock Netflix or other names by hiding and switching to another local IP address.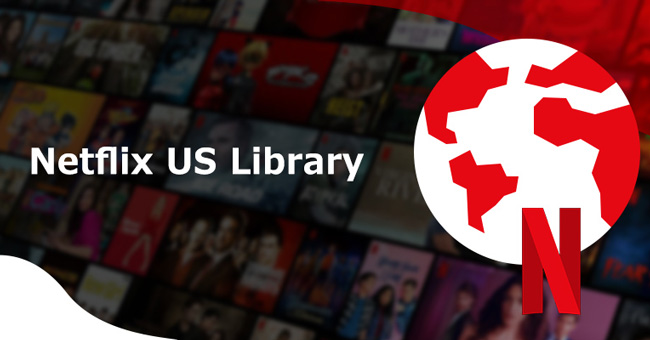 2. You can watch most YouTube videos normally but some are region-blocked
Geo-blocking reason: copyright and licensing of content
Similarly, free video streaming services like YouTube may also implement geo-blocking for user-generated clips. If you come across "This video is not available in your country", that means the video owner has limited access, leaving your device's IP address out of the geographic region. Yes, it's the YouTuber who posts the video that determines this region filtering. There are still many official channels of big entertainment companies, singers, and so on, and it's not wired for them to open licensed movie trailers, music videos, etc. for specific nations.
3. You live in a nation with strict internet censorship and are forbidden to visit some foreign sites, legal or illegal.
Geo-blocking reason: nationwide censorship
In reality, most countries censor the internet in their own ways. If you are located in or just going to any strictly-censored nations for travel/business/learning, for example, China, North Korea, the Middle East, Russia, and Iran, you will encounter various website or other types of content filtering. Some bans access to all foreign sites while some pick the typical social media, political media, pornography, and torrent sites as the target resources to have their citizens stay away from. Also, censorship may differ from time to time. Social and political media may be shut down only when it's a politically sensitive period.
The government just has ISPs to carry out domestic censorship. To evade this geo-block, you will have to change IP address to other locations without censorship.
4. You are only unable to access websites at school, company or other public networks.
Geo-blocking reason: Internal network supervision
The network administrators or IT technicians are free to set internet access rules up for whatever reasons they want. Schools tend to district all inappropriate sites to protect their students from harmful content, institutions disallow entrances to irrelevant social, streaming and other sites that may hurt employees' productivity, coffee shops sometimes keep traffic-eating streaming inaccessible to guarantee all connected users a relatively faster connection speed…
All of these prohibitions are based on your IP address. That said, if you move to another one, you can bypass the geo-blocking without hassle.
How to Fast Get Around Geo-blocking and Unblock Websites?
To remove the geo-blocking, unblock websites and visit the banned pages as others do, you have many methods to opt for according to your actual situations. But using VPN is the most recommended one thanks to its high level of security and the nature of versatility, and other paths and programs mentioned might be unable to resolve the geo-blocking problem fundamentally. No matter what geo-block you meet, you can always trust a good VPN to bypass it.
A VPN works by hiding your real IP address and delivering your another one from the server location you pick. Superior to proxy services, VPN's internal VPN tunneling tech and solid data encryption put an extra layer of data safety while a proxy only assists you to change IP address. Also, VPNs tend to have more servers and offer more server locations to choose from. Therefore, more people choose VPN software to bypass geo-blocking and unblock any kinds of websites, streaming, social media, torrenting, and adult porn sites included.
Here PandaVPN is a good VPN choice if you need a tool to unblock geo-blocked websites and secure your privacy at the same time.
This Seychelles-based VPN comes with over 3000 accelerated servers in 170+ locations across the world, with which you are capable of removing any geo-blocking and access the internet content as you like, be it Netflix, PirateBay, TamilRockers, Facebook, Twitter, or xHamster. By supporting OpenVPN, WireGuard other reliable VPN protocols and the highest level of ECC encryption, along with strict no-log policy, PandaVPN makes its best to safeguard your online identity and personal data tightly.
To bypass geo-blocks with PandaVPN, simply follow the steps below.
Step 1: Create an account of PandaVPN to standby
Step 2: Download and install it on your desktop computer, laptop, mobile phone, or tablet.
Step 3: Sign-in and choose a server to connect. If you are in a dilemma, you can choose Smart Mode and Smart Connect to have the app select the fastest VPN for you.

You can Try Access the Blocked Site with IP Address
If the ISP or web administrator only inputs the website URL into the blacklist, there's a chance that you are able to enter the site with its IP address. Yup, people can visit a website via either a domain-included link or the IP address. To obtain the IP address of the blocked website, you can leverage an online domain to IP address converting service or the command prompt on Windows computer.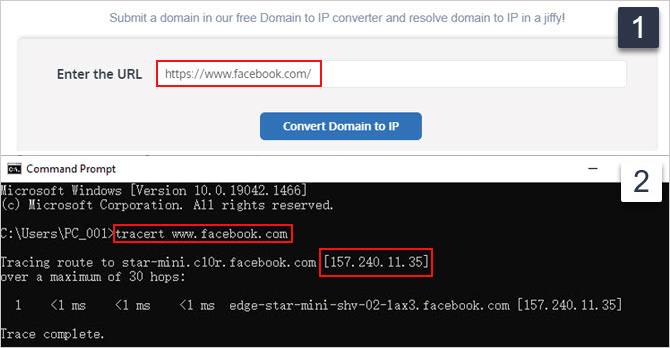 As to the second method, you should search and pop up the "Command Prompt" window on Windows, manually type "tracert + site name" and press enter to have the IP address worked out. Mac users should open Network Utility -> Traceroute and fill in the website link to get its IP address.
After that, you can directly copy and paste the IP address into the address bar of the browser to see whether it's workable. If nothing has changed, just try other manners below.
Try Use Web Tools to Acquire the Site's Content for You
There are various online tools you can still try out to see they work for you.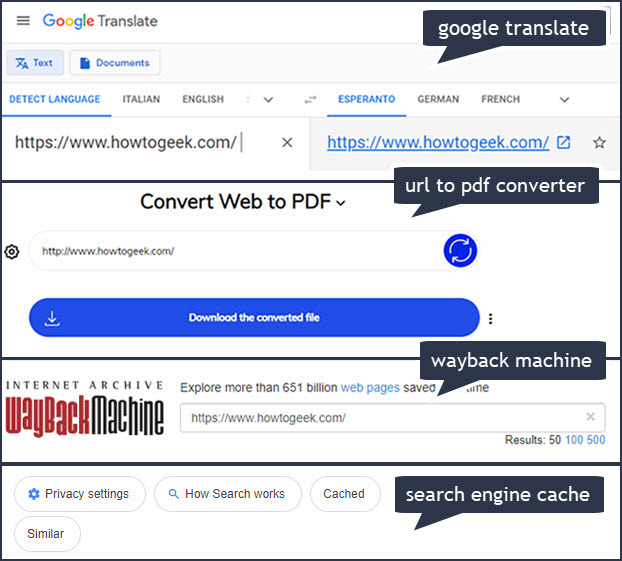 – HTML/URL to PDF convertersfeatures transforming the web into a PDF file and then you will see what the unblocked sites want to tell you about.
– Google Translate(if it's not banned) is able to translate a website in another language. What you need to do is entering the URL into left box and opens the link in the right translated box.
– Internet archive service or say the wayback machine documents tons of web changes for further look back. You can still explore many versions of the blocked webpages.\
– Search engine's cache functionalityis also worth a shot when you search some keywords and find the blocked page is among the search results.
…
Exercise your rights to privacy in digital age!
Get PandaVPN
7-day money-back guarantee