What's P2P VPN? 4 Reasons to Use It for P2P File Sharing & BitTorrent Downloading
Vic Knott
2022.08.12
Online Privacy
VPN App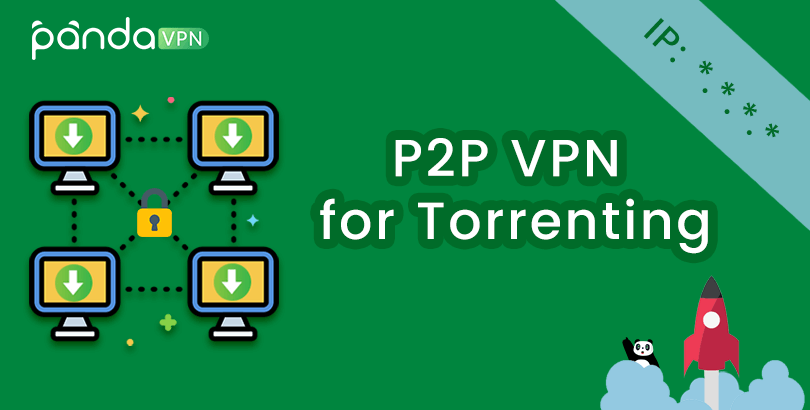 To have a fast and safe BitTorrent file uploading and downloading experience, you'd better get a solid P2P VPN.
More and more people start to take focus on the online security and privacy thing, thus equipping smart devices with a VPN app becomes quite common nowadays, be it the portable phones, pads and laptops, or the big-screen desktop computers and smart TV. Although there are hundreds of VPNs in the market, those that're truly high-quality are not as common as you might think, not to mention the stellar P2P VPN.
What Is P2P VPN?
Definition first. As the name suggests, P2P VPN especially refers to the VPN that's able to work with peer-to-peer network, typically the most widely used BitTorrent file sharing. No matter you are not allowed to access torrent sites, are restricted to upload and download torrent, has suffered ISP bandwidth throttling when downloading, or simply wish to have a private P2P journey, you can always trust the VPN for P2P torrenting thanks to data protection workflow.
How does P2P VPN Work?
All VPNs works in the same way. They have unique tunneling tech, with which a safe and encrypted VPN tunnel will be built between the user and VPN server, and still between the VPN server and Internet end.
Definitely, VPN just offer a middle-server to mask and change your IP address, receive your data and then redirect the traffic to the final web server. During this process, all of your data is locked tightly so that any third parties are unable to crack the encryption down, trace and collect your information for possible use.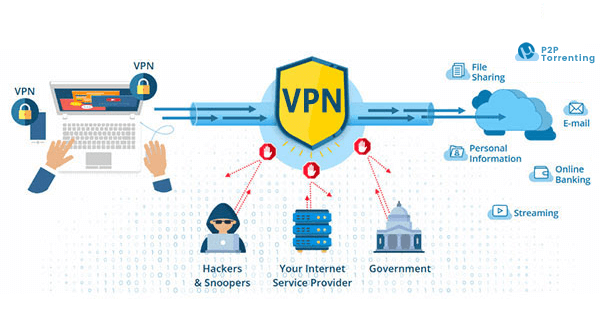 However, VPN encryption level does differ from VPN protocols and encryption algorithms. Only when both of they two come from the top names (like OpenVPN, WireGuard, 256-bit AES, and 256-bit ECC) can the VPN ensure you a trustworthy data protection.
How to Torrent Safely and Privately with P2P VPN?
To do P2P torrenting anonymously and safely, with less worry about identity exposure, you are suggested to choose a good P2P-friendly VPN to hide real IP address, shelter your online actions firmly, and maybe also block extra malware, virus, phishing programs from torrent sites. In addition, if you are a frequent P2P file downloader, too much bandwidth usage may raise the possibility of ISP throttling or say speed limit from your ISP. At this time, VPN is also a good way to fight it.
PandaVPN is a cross-platform VPN application that's achieved over 40 million users worldwide. Its 3000+ super-fast servers are located in 80 different countries and more than 170 locations in total, so every user has a wide range of IP address options to choose from. To meet more demand on special content unblocking, besides server groups in countries and popular regions, PandaVPN also gives dedicated servers for BitTorrent (for P2P users), Streaming (for Netflix binge-watcher), and Game Proxy. Below are 3 easy steps on how you can have PandaVPN works with P2P torrenting.
STEP1. Get PandaVPN Account
Click the button above to create a PandaVPN account and order a plan according to your need. Email address is not a must-have if you don't want to bind your personal email with the VPN purchase.
STEP2. Install and Sign In
After that, please download PandaVPN, set the VPN's client up on your device, and then sign your account in.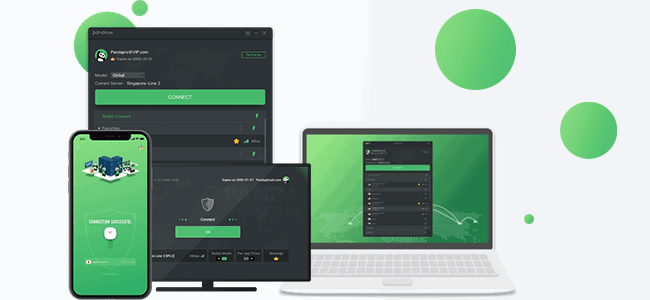 Currently, PandaVPN is compatible well with Windows, macOS, iOS, Android, Android TV, and Linux. Since it supports multiple connections, you can install it on all of your frequently-used smart devices, not merely the one where you get used to downloading torrent movies/TVs/software.
STEP3. Choose a Server to Connect
When you are ready to go ahead P2P upload and download, you can launch PandaVPN, select any VPN route mode like "Global VPN Mode", "OpenVPN Mode", and "WireGuard Mode" (route modes may vary from platforms), and then choose a suitable BitTorrent server to connect immediately. Also, you can type "BitTorrent" directly in the search bar to load all BitTorrent-friendly servers.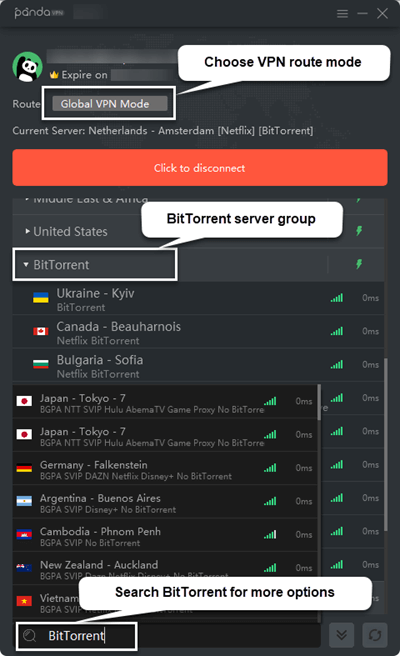 * Server Note: At present, BitTorrent servers are mainly from the United States, Canada, France, Germany, Netherlands, Luxembourg, Bulgaria, and Ukraine. Through search, you can find more nation options such as Japan, New Zealand, Argentina, and such.
Four Benefits of Using a P2P VPN
Many newbies wonder whether getting a VPN for P2P torrenting is necessary, to help make things clear, five key benefits of using such app are shared in detail. If you are looking for a solution to either of them, don't hesitate to take a peer-to-peer VPN.
Benefit 1 – Hide IP address, avoid tracking from ISP, government, hacker…
Speaking of P2P torrent, what comes to one's mind firstly tends to be keywords like "pirated movies & TV shows", "illegal downloads", "adult torrents" and similar, despite P2P and torrent are technically legal and there are still many legal materials like open-source software, public domain films, and Linux distributions.
To fight against piracy and protect the copyright, many big movie and music distribution companies and related national departments take pressure on popular copyright breaking sites, typically P2P torrent sites, as well as free video and music download sites. That's why many big torrent sites went off in about years ago, KicsassTorrent, EZTV, ExtraTorrent, YIFY, just to name a few.
If any one is caught by distributing or downloading copyrighted content without permission of content owners, he or she would probably receive warning from ISP/DMCA, or even be caught by the police and get further criminal penalty. We don't advocate people free downloading any pirated file from torrent sites, however, if you really want to, you can at least run a VPN to make your IP address and behaviors invisible and hard to track.
Benefit 2 – Be anonymous online and unblock banned sites for torrenting
Some countries censor P2P torrenting strictly or even close the sites. In countries with strong copyright protection laws (e.g US, UK, UAE, AND Japan)or heavy internet censorship (e.g China, Italy, Russia etc.), torrent sites are under tight regulation and some even take the torrent sites as improper online resources, hence fine penalty and permanent shutting down P2P sites is a common occurrence.
If you happen to study or travel abroad in these kind of regions, no matter you are kept off the any frequently-visited P2P hubs or you should adapt yourself in the new torrent-sensitive environment, VPN should be a browsing and file downloading partner.
Benefit 3 – Increase P2P torrent download speed if it's limited or throttled
BitTorrenet downloads often or suddenly become slow? To a large degree, your speed is limited by your network administrator or most probably your ISP. Many ISPs don't like users doing things requiring large bandwidth, among which P2P file acquiring is typical example because it's quite common to see a full 1080p HD movie has size around 10 GB, not to mention those titles in higher resolution like 4K. If the ISP detects your big torrent traffic regularly, it may throttle your BitTorrent downloads without notification
To bypass this, you can leverage a VPN app to encrypt your traffic so as to the ISP is unable to recognize it and do further throttling. In addition, picking a throttle-free torrent VPN matters still since many freebies or low quality VPNs do limit download speed too.
If nothing helps to improve this situation, maybe it's time to upgrade your internet service or get service from another ISP.
Benefit 4 – Free access to any internet resources, privately and safely
What P2P file sharing and downloading to all web actions is just as what a drop to the bucket. Although we are mainly talking about P2P VPN in this post, as a matter of fact, there's no such dedicated VPN only serving for P2P things, but feature-packed VPNs that support BitTorrent P2P and many other online actions, say gaming, streaming, web browsing, and similar.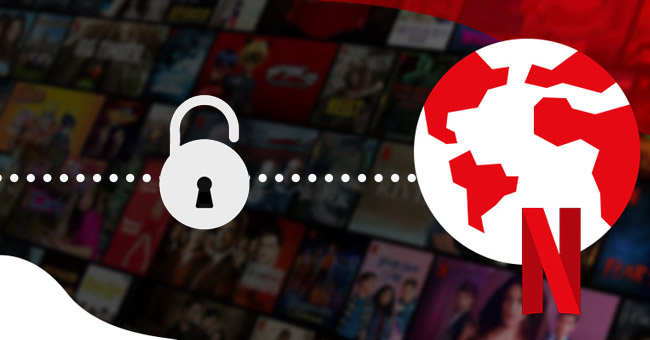 With a VPN's massive servers, you can switch IP address to many locations around the world to be untraceable for a better online identity protection, to unblock banned websites & apps for a truly free internet access, to access geo-restricted streaming service, to change server location for meeting worldwide game players and friends, to enjoy a cheaper price etc. Plus the built-in encryption, you can be on a free yet private safe online journey as you wish.
A word of notice, do choose a no-log VPN like PandaVPN in case your personal information and browsing histories are kept by the VPN provider for further use
Is There Any Free VPN for P2P?
Yes, there are some free VPN choices for torrenting and many editors recommend the names. However, through investigation and real testing you will find that they are nothing more than the following two types:
– The premium VPNs that are taken as free software thanks to its refund policy. For instance, NordVPN, Surfshark, ProtonVPN all offer a 30-day money-back guarantee, CyberGhost even provides a 45-day guarantee. As long as you apply for the refund within the time, you've just used it for free.
– The free VPN apps with limited servers, speed, and bandwidth usage, be it truly free ones or the free (trial) version of paid VPNs. Don't trust the cost-free VPNs because set aside slow speed, they are about to save your logs and you don't have idea on where your information will be delivered to.
In short, don't expect any free launch and you'd better pay for what you care most.
Final Words
P2P torrenting itself is totally legal while is often regarded as a grey area due to a wealth of illegal unsanctioned copyrighted materials are here. With the society moving forward, we hope everyone could acknowledge the importance of copyright protection and respect others' copyrights. Then when you have to look for something useful on torrent sites, please prepare a P2P VPN in advance to be private and safe.
Exercise your rights to privacy in digital age!
Get PandaVPN
7-day money-back guarantee